Name: Mikayla Markham
Missing Since:
Thursday, November 2, 2023
---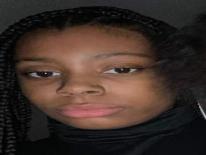 Thursday, November 2, 2023
The Metropolitan Police Department is seeking the public's assistance in locating 16-year old, Mikayla Markham who was last seen in the 4200 block of East Capitol Street, Southeast, on Tuesday, October 31, 2023.
Mikayla Markham is described as a black female, 5'0" in height, 105 pounds, with pinkish/orange hair and brown eyes. She was last seen wearing a red hooded sweatshirt, black sweatpants with cartoon characters on the front and grey/black/blue Crocs.