Name: Maxwell Braschnewitz
---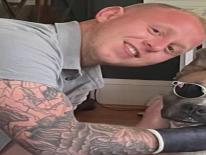 The Metropolitan Police Department is seeking the public's assistance in locating 26-year-old Maxwell Braschnewitz, who was last seen in the 2200 block of Massachusetts Avenue Northwest, on Monday, July 31, 2023.
The incident was reported on Wednesday, August 30th.
Maxwell Braschnewitz is described as a white male, 5'9" tall, 185 pounds, with blonde hair and blue eyes. He was last seen wearing a white t-shirt, gray sweat pants and gray and white Adidas slides.