Name: Jalyila Edwards-Simmons
Missing Since:
Sunday, November 19, 2023
---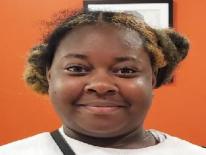 Sunday, November 19, 2023
The Metropolitan Police Department is seeking the public's assistance in locating 13-year-old Jalyila Edwards-Simmons, who was last seen in the 1200 block of Madison Street, NW, on Friday, November 17, 2023. Incident was reported on November 19, 2023.
Jalyila Edwards-Simmons is described as a black female, 5'0" tall, 200 pounds, with red/black hair in locs and brown eyes. She was last seen wearing a blue, yellow and white "Fast & Furious" shirt, remaining clothing is unknown.