Name: Daniel Aligbasia
Missing Since:
Thursday, February 6, 2020
---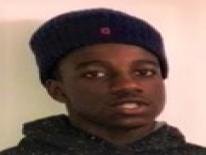 Thursday, February 6, 2020
The Metropolitan Police Department is seeking the public's assistance in locating 14-year-old Daniel Aligbasia, who was last seen in the 1400 block of Belmont Street, Northwest on Thursday, February 06, 2020
The incident was reported on Sunday, February 09, 2020.
Daniel Aligbasia is described as a black male, dark complexioned, 5'8" in height , 170 pounds, brown eyes and black hair. He was last seen wearing a black and yellow jacket.