Name: Brittany Kemi Abosede
Missing Since:
Thursday, December 29, 2022
---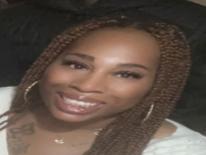 Thursday, December 29, 2022
The Metropolitan Police Department is seeking the public's assistance in locating 33-year-old Brittany Kemi Abosede, who was last seen in the 4300 block of 13th Street, Northeast, on Thursday, December 29, 2023, at 2:00 PM. The incident was reported on Friday, January 6, 2023, at 2:14 PM.
Brittany Kemi Abosede is described as a black female, 5'8" in height, 265 pounds, light complexion, brown eyes, brown bushy shoulder-length hair and brown eyes. She has tattoos on both arms, a tattoo on her back with the name Katrina and a tattoo on her chest with the name Remi. She was last seen wearing a green/gray sweat suit and pink sparkly Ugg boots.