Name: Andrea Robertson
---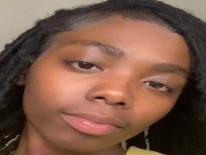 The Metropolitan Police Department is seeking the public's assistance in locating 16-year-old Andrea Robertson who was last seen in the 4500 block of Livingston Road Southeast on Tuesday May 17, 2022.
This incident was reported on Wednesday May 18, 2022.
Andrea Robertson is described as a black female, 5'7" tall, 115 pounds, with black braided hair and brown eyes. Her clothing description is unknown.