Name: Randall Martin-Thorpe
---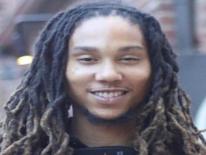 The Metropolitan Police Department is seeking the public's assistance in locating 23-year-old Randall Wallace Martin-Thorpe, who was last seen in the 3500 block of Jay Street, Northeast, on Friday, July 6, 2018.
The incident was reported on Tuesday, July 10, 2018.
Randall Wallace Martin-Thorpe is described as a black male with a light complexion, 6'1" in height, 155 pounds, with black and brown shoulder length dreads, and brown eyes. He was last seen wearing a gray suit jacket, red, black and white checker shirt, gray pants, and red, black and white Nike running shoes.